Quality Catering Trailers for Hire, Mobile Kitchens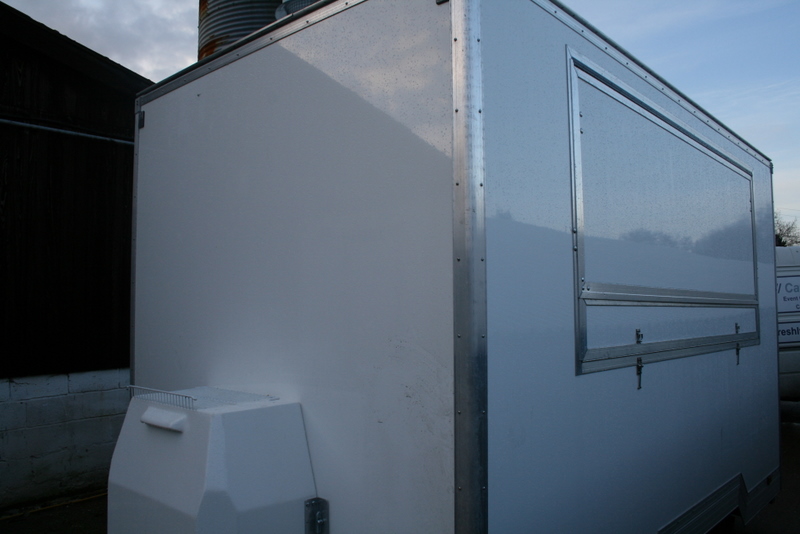 Catering Trailer Specification
---
Catering Trailer Rental Specification 2014

.

We have 10ft, 12ft, 16ft & 20ft Catering Trailers available.



All of our Catering Trailers are plain white allowing you to brand as you wish. If you would like to see some examples of our clients signwritten trailers click here


NEW ADDITIONS - We introduced in 2014 our new RETRO range of trailers, we have 3 x 19ft Airstream inspired polished aliminum catering trailers available for hire with other sizes to follow.

Base Trailer Spec- To see extra equipment that can be included click here

Internal Dimensions

Length 10ft

Width 6ft 6"

Height 6-6" 

External Dimensions

Length 14ft

Width 6ft 9"

Height 8ft 6"

All dimensions are approximate and subject to change on actual trailer rented.

Power 240v & LPG

The trailer can be plugged into mains power or generator with suitable rating when available.

1 Serving Hatch to side, hydraulically operated, with serving shelf.

1 door at end

2 vents in roof

2 vents in walls

Internal Specification

2 sinks

2 x 45l water containers, 1 for water supply to sinks, 1 for the waste water from the sinks. 

1 x Large Griddle LPG -1m wide

4 pot Baine Marie LPG

1 x under counter fridge

1 x under counter freezer

1 hot water boiler LPG– 1 x 20l 

1 x fire blanket

1 x 2kg wet chemical fire extinguisher

Internal strip light

Call us Now, do not worry, we are here to help you whatever your need.