Catering Trailers for hire from 1 day to long term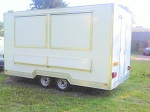 Trailers in stock for immediate pick up .

---
We have a fleet of over 40 catering Trailers for hire and burger vans for rent as well as full portable Commercial Kitchens that you can hire and operate yourself.
All of our Catering Trailers for hire are under 18 months old and plain white allowing you to brand them.
Our Catering Trailers for hire are manufactured by our sister company eu-trailers.co.uk and are designed and built to meet your business needs.

To see more videos and pictures go to our gallery.
You can specify exactly what equipment you need in your hire Catering Trailer, to see a full equipment list for you to choose from click here

Our Catering Trailers for hire are rented by Professional Caterers, TV & Film Production Houses, Events Management Companies, PR Agencies and Local Authorities. They are multi-purpose trailers available for various different types of catering, such as;
burger vans
kebab vans
hot dog vans
german sausages
fish and shellfish
coffee kiosks
grill and barbeque bars
All of the trailers available are fitted with general purpose sales units capable of producing bagels, baguettes, wraps and sandwiches as well as hot and cold drinks.

You can rent our catering trailers from 1 day to 3 years.
All of our rental Catering Trailers are delivered with a certificate of Gas Safety (gas safe) , electrical installation (NIC EIC) if requested.
Catering Trailers from 10ft to 20+ft
Burger Van or Mobile Kitchen Trailer
Trailer delivered to you within 24 hrs
Select size of trailer required
Select equipment
Select format